In September 2014 Lauren Proctor, who works for the Scheme in the North East, was contacted by an excited metal detector user who informed her he had discovered a hoard of Roman coins. The finder, David Blakey, described a ceramic pot brimming with copper coins from a field near the village of Wold Newton, East Yorkshire. David and a group of fellow detectorists lifted the pot whole, leaving the coins within.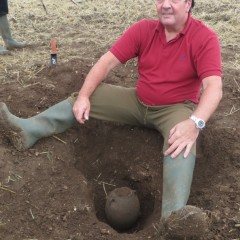 Above: David Blakey with the in-situ hoard prior to removal.
Once the hoard was deposited with Lauren it was passed to the British Museum where, thanks to David leaving the coins in-situ, leading experts "excavated" the contents of the pot. This allowed them to determine how the coins were added to the vessel. Nine different levels were removed which showed that different bags of money were mixed together, hinting at how and why the coins were concealed. Some of the coins were also found to have insect remains adhering to them which may, when properly studied, show at what time of year the hoard was buried.
The coins were also individually identified and were found to represent a mix of emperors, mints and reverse types. Many of the coins were issued by emperors with strong links to the north and York in particular. Constantius I who died in York on 25 July AD 306 is well represented in the hoard, and it was he who was responsible for defeating the breakaway Britannic empire of Allectus and reuniting Britain with the rest of the Roman Empire.
The latest coins are early issues of Constantine the Great which date to AD 307, allowing us to determine the year in which the hoard was probably buried. Many of the coins were struck at the large mint in London. Containing 1,857 copper-alloy coins in total, it was also determined that this is the largest hoard of this date from northern Britannia.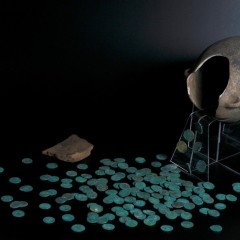 Above: The Wold Newton Hoard on display at the Yorkshire Museum during the fundraising campaign.
The size and contents of the Wold Newton Hoard show it to be of huge significance. Following its declaration as Treasure, the PAS worked with the Yorkshire Museum to ensure the hoard could be acquired and kept within a public collection, thus allowing the possibility of further study with the potential to reshape our understanding of a crucial period in the history of York, Yorkshire and Europe.
The Wold Newton Hoard was successfully acquired by the Yorkshire Museum where it is currently on display.